Better Well Cementing For All was created in 2016 by Lenin Diaz to share his knowledge as a cementing technical expert and manager.
In the middle of the biggest oil industry downturn in decades, Lenin found himself in an unplanned career break. As a pro-active and energetic person, he soon realized that his experience in drilling, workover, rigless fluids and cementing operations could be transferred to others.
Lenin thought, what better way to spend a 'mini-retirement' than to create a knowledge base of cementing tactics and experience? The same online archive of his skills and experience could work as a future resume, journal, student handbook, or possibly the start of a brand new company.
A specialist well-cementing company who could grow as a leading oilfield services organization!
As Lenin Explains…
I have held several positions in cementing engineering, project and operations management in Venezuela, Kuwait, Mexico, Central America and Iraq. Both locally and at regional/country level. My engineering and operational experience includes oil, gas (conventional, HPHT, LPHT, onshore and offshore) and geothermal wells.

With around two decades of experience in cementing, I have developed great knowledge in developing and implementing technical solutions targeting any well-specific challenge. I have been the technical leader for introducing, developing and deploying technical solutions in cementing, loss circulation control, water control, water shut-off in drilling rigs work overs, rigless and CT applications.

I have several SPE papers published and numerous internal company technical documents. I have full knowledge in all cementing and water control specialized software. I have developed cementing standards and practices for Schlumberger and BP including cementing standard, zonal isolation standard and drilling fluids standard.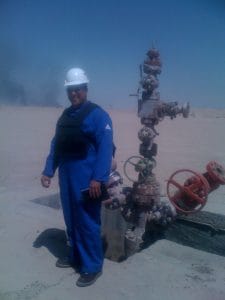 Whether you are a student, apprentice, or an experienced well cementer, feel free to ask Lenin any question that you might have, all will be answered in good faith and at no cost.
If you are reading this and represent a company who is looking for a cementing specialist, then know that Lenin has the experience and attributes necessary. He can help you overcome any cementing challenge that you are likely to face. Don't take the chance of hiring an inexperienced person to head up your cementing team. You have probably been around long enough to understand the potential repercussions of a bad cement job!
When you deal with Better Well Cementing For All, understand that the man at the helm has the following skills, strengths and specializations:
Cementing Specialist, project and operations manager
Experience in drilling, workover and rigless operations, including:
o Offshore and onshore operations
o Geothermal wells
o Conventional, HPHT, LPHT oil and gas wells
o Well abandonment
o Zonal Isolation challenges
o CT operations
• Development and implementation of new technology and specialized practices
• Tender and bid management
• Contractor management
• Technical papers and industry events
• Technical analysis and selecting optimum fluids solutions
• Integration of new fluids technologies in drilling and Workover jobs
• Writing technical standards
Lenin Diaz