Before we get into the cementing calculations sheet available below, first some background. For some time already, I have been receiving requests from friends and readers, mostly drilling engineers and well-site people, to provide a quick and fact-based tool to estimate the top of cement (and all cementing fluids) after a job. A tool that can also help during the design phase to identify where the cement (lead, tail or single slurry) top should be to cover a permeable formation or to reach a certain depth inside the previous casing.
Well, I did some additional work on an old Excel sheet I developed a few years ago. I completed the first version ready for distribution, here in my blog, of a TOC calculator. This calculator has the following features.
Besides well and fluids details, It accepts input of:
a) Two-diameters caliper,
b) Excess %,
c) Losses (lead and tail),
Well schematic/chart to visualize:
a) Position of fluids (lead, tail or spacer),
b) Caliper,
c) Casing details,
d) Top of formations (up to 7 formations)
e) Estimation of the final circulating pressure (FCP or pressure just before bumping the plug).
This free online version of the calculator only works with vertical wells, it cannot be saved and does not allow customization of the well schematic chart.
For the complete version of my cementing calculations sheet, I appreciate your kind donation very much (see donation link, via PayPal, at the bottom of this page).
Free version (Donate to get the full version as an Excel file – Donation link in the right pane to the bottom)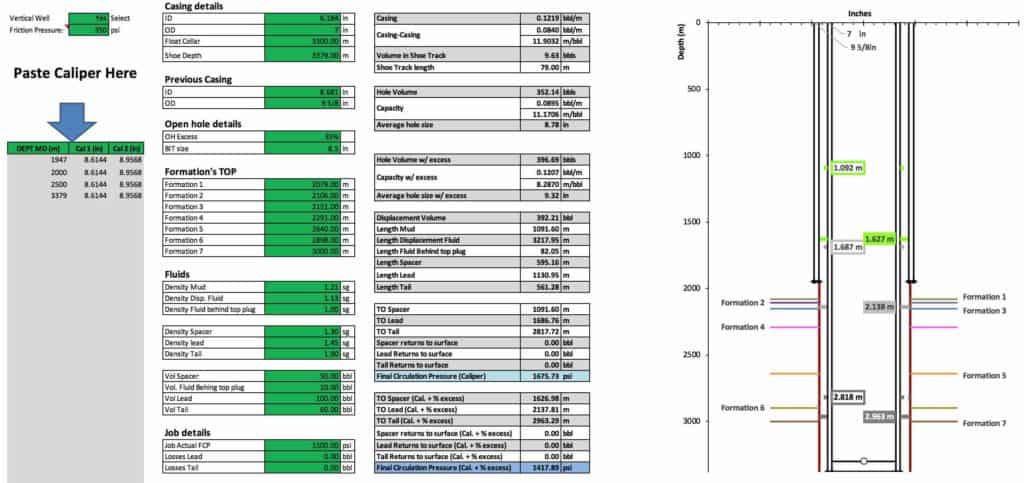 Fill only the green cells, paste your Caliper (4-arm) or input manually your hole details and you are good to go!
Scroll to the right to see the chart and if you need to start over just reload the page. The page will return to the example case.
---
This excel sheet has been tested and it is working great for me, but I am sharing it with the objective to help people. I would like you to try it and give me your opinion or what improvements or changes it needs.
Take a look at the full version with all capabilities.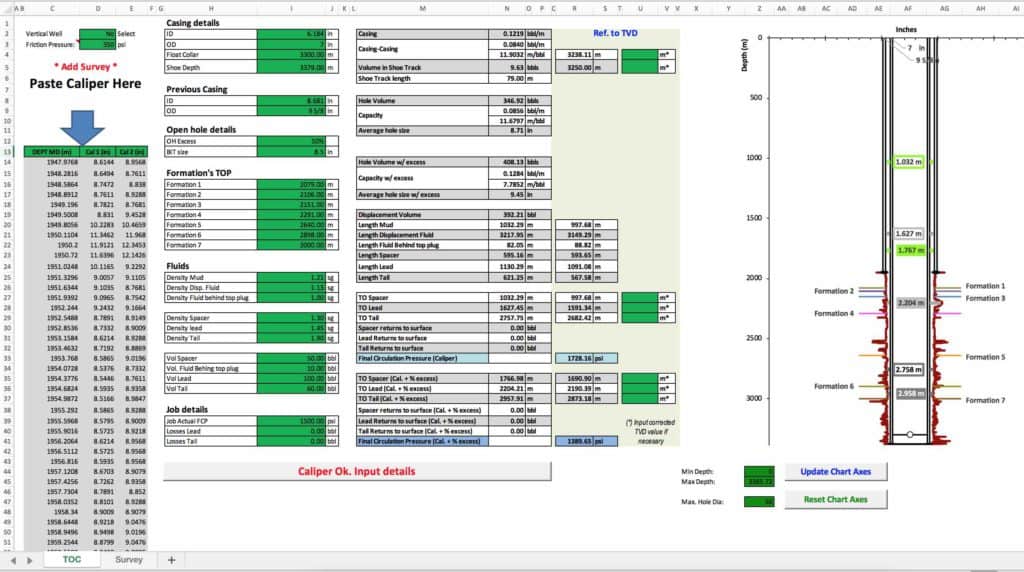 Cheers,
L. Diaz