Let's have a quick overview regarding bentonite. It is easy to find references online regarding bentonite as a cement extender, the way it works (or I should say reacts), and why additional water is required when using it as an extender. Here I will try to explain as simply as possible, for readers of all levels of knowledge.
First of all, Use the right additive:
I should be precise that not all types of bentonite are good to be used in cement slurry as an extender. There are mainly two types, the Wyoming bentonite, and the beneficiated bentonite. The Wyoming bentonite is the approved one by the API as an extender for cement slurry. At least this is the one that should be used, it is specified as "non-treated" bentonite (API Spec 13A, Sect.5 – Can be found in google).
The other beneficiated bentonite or peptized bentonite, to which polymers have been added to artificially improve hydration is not recommended for well cementing. This one is forbidden because it can interfere with other additives. So first make sure to order the good one.
Additive concentration: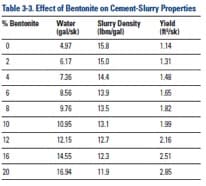 Typical bentonite concentrations used are generally from 1 to 20% BWOC, there are some references stating that concentrations up to 25% BWOC (or even higher in DOBC plugs – gunk plug – for lost circulation/water influxes) have been used. (I never used up to 25% BWOC for primary cementing). This depends on the cement slurry density and properties you are looking for. In general, with bentonite cement slurry densities are from 11.5 to 15.0 ppg. 
Bentonite can be mixed in two ways. It can be directly mixed with cement (dry-blended) and later the blend is mixed with water/mix water/mix fluid or it can be mixed in the mix water (pre-hydrated) and later cement is added in the mixed fluid. 
It should be kept in mind the following parameters
1% BWOC pre-hydrated bentonite = 4% BWOC dry blend bentonite, 
The lower the bentonite extended cement slurry density is, cement mechanical properties will be poor (Table 3-3 and 3-4 taken from Well cementing II edition) and, 
The addition of bentonite to a cement slurry requires additional mix water. A rule of thumb is for each 1 % of bentonite an additional 5.3 % of water is required.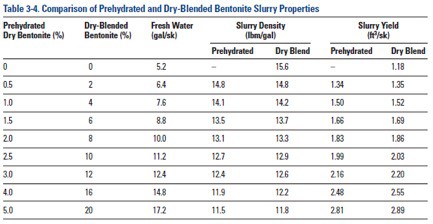 It is recommended to pre-hydrate the bentonite and properly hydrate prior to mixing the cement slurry. Compare to dry-blended, when mixed with mix water (bentonite will hydrate totally in 30 min) properties of bentonite are boosted because it absorbs an important volume of water. But, when it is dry-blended with cement and then added to mix water, it does not hydrate completely (Hydration inhibited by Ca2+ ions in the slurry).
What is the best procedure for mixing the slurry in the laboratory?
The recommended procedure for mixing and testing cement slurry in the laboratory can be found in the API RP 10B-2 sect. 5. It highlights all the requirements (equipment, calculations etc.) and recommendations for testing cement slurries and related material as per simulated well conditions.
As mentioned earlier, for dry-blended bentonite, the mixing procedure in the laboratory is the same as with any cement or blended cement (described in the referenced document). For pre-hydrated bentonite, the bentonite has to be completely hydrated (30 min is required), as any solid additive, in mix water prior to adding cement. Then testing of cement slurry can be performed and completed normally.
Cement slurry preparation or Mixing procedure (general)
Place the required amount (mass) of mixing water and liquid in the mixing jar or the blender container.
Start the mixer at 4000 RPM, then add the required additives following the proper mixing order sequence. The additives should be added to the mix water while mixing at low speed. For pre-hydrated bentonite, allow 30 min to ensure that the additive is completely hydrated. 
at 4000 RPM, add the blended cement (cement + dry additive) or cement at a uniform rate in not more than 15 sec. 
place the cover on the mixing container and continue mixing at 12,000 RPM for 35 sec.
Measure the cement slurry density using the pressurized fluid density balance
Secondly, what about the water requirement as we increase the percentage of bentonite in the slurry?
I add above some tables (taken from the Well Cementing II edition) that can be used as a reference to having an idea regarding water requirement and bentonite's concentration. This is only as a reference because when designing a bentonite extended cement slurry it is common to add some additional additives as well, such as FL, Dispersant, retarder, etc. So, the water requirement will change accordingly.
Calculations: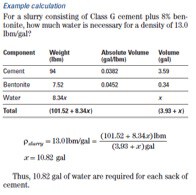 To determine the water requirement vs bentonite concentration, if you don't have a lab sheet or an excel sheet or any other means, you need to do some simple math. The bases are quite simple, I think. You have to know how to determine cement slurry density, slurry yield, the weight of additives and cement sack (94 lb in general, you can find 110 lb too like in Mexico) and parameters like additives absolute volume. You can have a look at the Well Cementing book II edition in appendix C – Cementing calculations to have a better idea, here is an example of calculation provided as a reference.
Software:
Another way to do that could be, this is probably the simple one, is to use some ''free software'' like eRebookTM (Halliburton) and I-handbook (Schlumberger). Both are free and can be downloaded online.
I am sure that there are cementing calculations' sheets online that can be used too, probably some additional online researches are required. However, the recommendation will always be to go back to the book (mentioned above) to understand the basic calculations and concepts before using the software. Remember, the software will give outputs based on the inputs provided. There are some pictures presented below as references.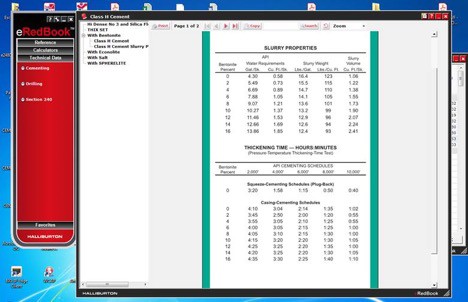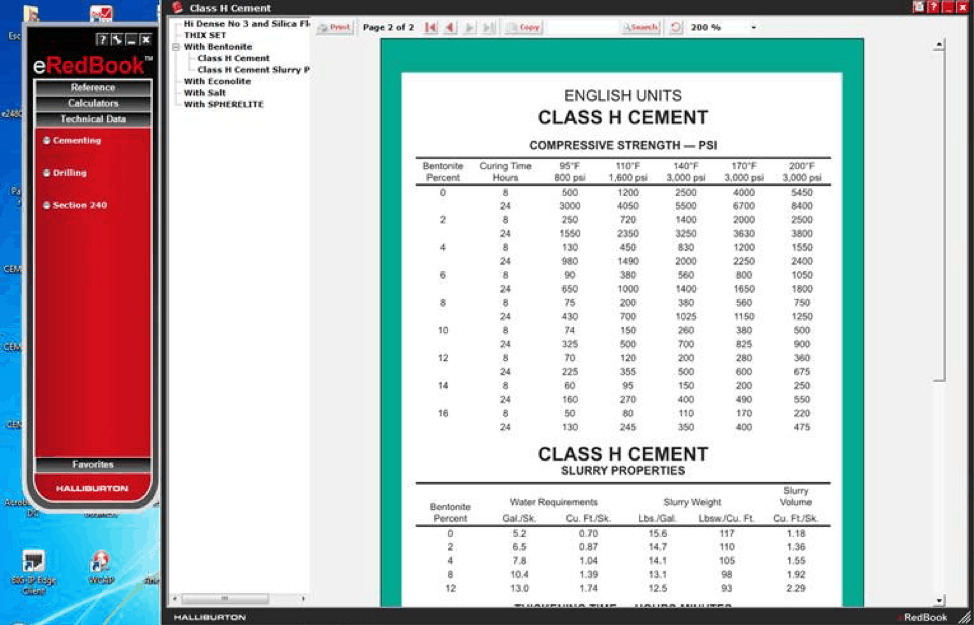 Print screens from eRedbook
Print screens from I-handbook
I hope that this summary has provided some answers to your questions. Feel free to contact me if any additional information is required. I will be more than happy to help if I can. 
Best regards
L. Bikouyi