Loss circulation challenges
This is a short article focusing on one topic: the balanced plug. During my time in Mexico, one of the main challenges That we faced was severe loss circulation. In new wells, due to the presence of fractured carbonates and low formation pressure (LPHT), several actions were usually in place. Examples include managed pressure cementing (cementing taking advantaged of MPD equipment/practices). Or the use of foamed or nitrified fluids and high-performance, lightweight cement.
In old wells, remedial cementing was particularly a challenge due to the inability of the wells to maintain the fluid level to the surface, even with water-like brines. I remember the sole task of abandoning an unnecessary perforated section or curing a casing leak required several operations. Time and time again several techniques formed part of our solutions repertoire, including nitrogen, nitrified fluids/gels, high-performance LCM, special cement systems, etc.
No balanced plug, but hydrostatic balance
The placing of cement plugs was particularly tricky and please forget about even mentioning the 'balanced cement plug method'. As you can understand with the fluid level below surface (sometimes as deep as 3000m), there can't be any balancing of the cement in the wellbore. Instead, I learned a practice developed locally called the 'actual hydrostatic balance'.
In this plug-placement methodology, the wellbore hydrostatic column after cement placement equalizes the formation pressure at the losses zone. The practice required knowledge of the static fluid level before cementing (the point at which there were no losses) to be able to estimate the formation pressure at the losses zone; then acknowledging the losses occurring while cementing the cement is under-displaced to avoid putting more hydrostatic weight on top.
In other words, replacing control fluid by cement leading to a deeper fluid level after cementing allowing the cement to remain in the wellbore. Graphically the following picture describes this cement plug placement methodology.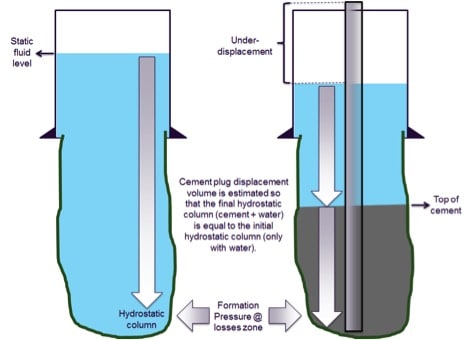 For obvious reasons after the cement plug was placed and the working string was POOH slowly above the TOC, it was required to WOC sufficiently to allow the cement to develop at least sufficient gel strength before attempting to fill the hole.
There are other situations where a conventional balanced plug is difficult or impossible. This concept, even if simplistic, proved to be a great resource to increase the success rate of cement plugs in underbalance conditions.
If you have any comments or questions, please let me know in the dedicated space below
Cheers
Please take a look at some interesting ideas and comments related to curing losses here, on Spread. An excellent place of knowledge exchange in the industry.
L. Diaz