This article will cover a review of the CEMPRO mud displacement drilling software. Unlike many reviews you see online, I've used software like this in my daily work for many years. I have experience in most of the competing alternatives.
In the last few years, I've had the opportunity to oversee the services of three different cementing contractors at the same time. The experience was quite enjoyable as I was continually looking at similar cementing information, but presented to me in different ways.
Don't get me wrong; all the pertinent information was there for all three contractors. I have to say that it took me a while to get used to all sorts of different reports and templates. The topic of hydraulic simulation was particularly motivating, as I like to challenge job models and explore scenarios to make things better (and fully understand the job's outcome). I was indeed able to measure the capacity of each software to assist in cementing engineering and producing better results.
However, being on the operator's side, the most crucial element for me was always the contractor's cementing engineer and his/her understanding of two key factors: the importance of the data input and the significance of the output in real life.
The cement placement simulator and engineer should balance each other, but the cementing engineer is the only one who can make things work. For instance, if the cementing engineer does not understand what they are trying to accomplish with the job simulation, the advancement of the simulation package does not matter. In this situation, they will not be able to design a cement job properly. The cementing engineer will be able to produce a nice set of pictures, charts and a lengthy report, but they will not be able to deliver what is more critical: SUCCESS.
Before we go into the CEMPRO review, I'd like to remind readers that I've already used the proprietary cement placement simulators used by the leading oilfield services and drilling companies.
As a former Schlumberger employee for more than 15 years, I am more familiar with CemCADE (currently Schlumberger uses CEMENTICS zonal isolation software). For this reason, it was always difficult for me to objectively see other similar software applications without bias (You know, for me CemCADE was the best!).
In work situations where I had somebody else doing the simulation for me, I paid less attention to the workings of software. When I needed to create the simulations myself, I was able to look beyond the desired synergy between cementing engineer and software and could see the features of the simulation software more objectively.
Ultimately, I wanted to know whether these features were sufficient to support a job case? Or to explain the best course of action or a failure?
With all this in mind, I have decided to do a review on CEMPRO+. Software developed and commercialized by Pegasus Vertex, Inc. In this review, I promise to avoid my old Schlumberger bad habits and will make an emphasis only on the role of CEMPRO+ to design a successful cement job.
If you are a customer, please don't forget that all that I am going to say could be strongly affected by the quality of the cementing engineer finally delivering a job design to you. (As I previously highlighted). Thus, in essence, this review will be probably more meaningful to cementers, students or drilling engineers responsible for designing cement jobs.
Let's start by saying that Pegasus Vertex was established in the year 2000. CEMPRO has since the very beginning been the software of choice for small to large size service companies and academic institutions. The software is also available in various languages, and something I like a lot is the fact that feedback from customers is always taken into account when developing new versions. This revision is for CEMPRO+ version 2.5.2.3.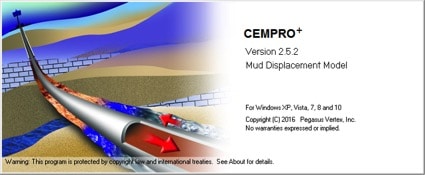 The review covers the following: experiencing the data input process, walking the workflow and an assessment of the output.
The methodology was simple: I used old cement programs from my library (prepared in other software platforms) and re-ran them in CEMPRO+ using the source data. A common feature shared by these old job programs is that the job outcome was not good (regarding cement coverage as measured by cement logs). The reason: in all cases insufficient (improper) job design. Ultimately, the objective of this review was to identify the cause and make the 'corrections' in CEMPRO+.
The data input in CEMPRO+ follows a natural path common for most cementing and drilling software. Starting with the well information (survey, formation, temperature and wellbore) entered first, followed by the definition of the pipes (Drill pipes, casing, etc.). These first two elements define the cementing geometry and conditions in place. Then finally the fluid section to describe the pumping and cementing fluids.
I have to say that the input process was comprehensive in general, but without previous training, it took me a while to go through the wellbore, pipe and fluid section. The pipe and wellbore sections, in particular, were a little more confusing at first, as I could not see the schematic that I was building simultaneously. I also found so many side buttons a bit distracting. With more training and familiarization with the application, the process must be more expeditious.
There is some information that is either requested or displayed that could probably be better in the background or an additional settings tab. Information, like heat capacity, conductivity, friction factor, etc. could be better just linked (auto-filled) to the selection of a formation or fluid type. Overall, this would make the data entering process more comfortable and more focused on the relevant parameters.
Following the data input, getting to the simulation output is just a click away, and at least on my computer, all the calculation transpired relatively fast and smooth. The output is full of information, and you can almost have everything you need. Once again, it took me a while to get familiar with the display, but it was pleasant to see the usability and potential of the application.
In all cases, the output values of pressure, ECD and u-tube were in very close agreement with those in my old simulations files from other applications. Actually, no surprises there but I had to check on that anyway.
Finally, I was not very happy with the Displacement efficiency feature. This is a characteristic that is now common in cement placement simulation software. It has to do with estimating the annular cement coverage as affected by fluids dynamics. The whole idea is to design a cement job in a more visual way, rather than just using charts and tables. This makes a lot of sense because cement jobs are finally evaluated in real life visually through images derived from a cement log (both sonic and ultrasonic logs can produce a circumferential image).
These images originate from the cement presence in the annular space or cement coverage, but in practice, many other factors are affecting their true meaning. Anyway, I am not going to discuss cement logs now, what is essential is that a feature like Displacement efficiency in CEMPRO+ can ideally help in "predicting" the cement log, and if that is finally achieved even eliminating the necessity of logging at all; when for instance a local practice reaches to that point. This is the value and power of predicting cement coverage.
Nevertheless, let's go back to my original point; I was not so happy because I found the displacement efficiency simulation with CEMPRO+ a little too optimistic regarding cement coverage if compared with my previous reports. Don't get me wrong; my previous simulation didn't predict the cement log perfectly (and before you ask, yes the log was taken after sufficient time) but the overall picture did follow the same cement coverage pattern. In the case of CEMPRO+ the prediction showed more cement coverage to the point that if we hypothetically go back to the design stage, the prediction by CEMPRO+ could have been considered suitable in the first place.
Next, I changed the CEMPRO+ design entering new values, in standoff, rheology, fluid volumes and rates. I previously obtained these new values when I did the exercise before with my old programs and software. These values were corrections in the design file to get a closer match to the cement log using the cement coverage feature in my previous software. Consistently, the results or prediction by CEMPRO+ was more optimistic than my old design and even more than the image in the log.
For clarification, the design 'corrections' in my old simulations were not done as a post-job analysis exercise using the actual job data. Instead, back then my objective was to work from the job design point of view. The aim was to achieve a closer prediction to the cement log as an alternative means to understand the failure. (Rather than attempting to recreate it in the simulator with post-job analysis).
In summary, CEMPRO+ is a well structured and useful hydraulic software application that can definitively be used to design successful cement jobs. Like any other software app, it requires training and familiarization with its functionalities. I found its workflow and input process to be more comprehensive than in any other application I used before, and I can adequately say that you can surely get a good grasp of it, and be up and running, in relatively short time.
Conversely, for this review I could not validate the Displacement efficiency functionality for this version. I know this feature was not introduced lightly and for sure there is a lot of science and work done by the developers. Therefore, I remain interested in looking at some practical validation examples; cement log vs simulation output.
I hope this review is useful, but if you have any comments or personal experiences to share, please feel free to add them below in the comment area.
Cheers
L. Diaz

---
Disclaimer: Software reviews are a personal opinion intended to provide feedback based on individual experience. In this way, it must be understood that several people might have different, positive or negatives, opinions about the same specific feature or the software application in general.