Now, please let me tell you more about Cement gelation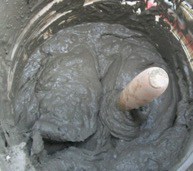 Why this post?
Over a month ago, someone requested some insights about gelation during primary and secondary cementing. Two or three answers were provided, which I think were enough to have a good idea of the topic. However, to be honest, I could not stop thinking about it and how hard it is to find some documents on this topic. Probably I should say – it is hard to find information when you do not know where to look for it.
For that reason, this post is made. I am not pretending to fully cover all aspects on this topic such as all the chemistry involved, (cement where the surface of the grains is highly covered by aluminates or cement poor in free sulfates etc), but I am just aiming to provide some insights on the topic so people like myself can read and if it can open a debate to enrich the topic, it will simply be WOW. 
Now that the introduction is done, let's try to make it as simple as possible. Therefore let's start.
Let's get the concept first
Having mixing issues, an un-pumpable cement slurry during/before the end of the displacement, or simply recording high displacement pressures due to the high viscosity of cement slurry or cement gelation can have dramatic consequences on a cementing job. If we are lucky enough we can complete the job, like the case of having high displacement pressure, but if not, the worst case is a job failure like having a CLIP (Cement Left In Pipe).
Cement gelation can be defined as an early viscosification or a gel-strength build-up of the cement slurry. In the lab, for example, when stirring the slurry in the viscometer, viscosification appears when observing abnormal high rheology. On location, it can be observed during the cement slurry preparation (Mixing cement slurry before pumping) stage. However, this issue should be fixed before reaching the execution stage.
Cement gelation can also happen during the cement placement as mentioned above. In the lab, we can observe it while testing the cement to measure the thickening time. During this test, we talk about gelation when observing an untimely increase in consistency curve (Bearden consistency – Bc). I should be careful here because these two (TT and rheology) measurements are different and recoding a gel while measuring cement rheology does not mean it will be observed on the thickening-time curve and vice-versa.
Why does cement slurry present gelation? Well, for sure there are many reasons that lead to cement gelation, but in general, the main ones are: the quality of the cement used, the water used, the additives used and sometimes the temperature at which the slurry is tested.
Let's identify them
As far as I know, there are four types of cement gelation reported, which can be classified into two groups. The first two are related to cement slurry early viscosification, which are primary gel and secondary gel, and the other two are related to an early increase in consistency curve in the TT chart, these are tertiary gel and quarterly gel.
Early Viscosification
Primary gel
This one is observed when the cement slurry, just after mixing, is left under static conditions. This is during the preparation phase of the cement slurry when measuring the cement rheology at room temperature.
In the lab, it can be detected while measuring the gel strength of the cement slurry with a viscometer after leaving the slurry after 10 min in a static state (the procedure in API RP 10B2). Basically, after these 10 mins in the static state, when the rotation at 5.1 s–1 (3 rpm with R1B1 or 6 rpm with R1B5) is resumed, the reading presents a high value (maximum deflection dial reading) or simply said an increase in shear stress. This is a gel-strength build up and in most cases remains permanent. 
I would like to add a special note here, there are people that classify cement slurry viscosification while mixing (unable to mix or reach a certain density) with primary gel, personally, I have some reserves on that and I will briefly discuss it later. I hope this will open an enriching debate. Let's continue.
Secondary gel
We can say that this gel is similar to the primary one but instead of being detected at room temperature, this one is detected at BHCT. In other words, this gel is detected while measuring the gel strength of the cement slurry after 10 min in a static state at BHCT. Since this is related to static gel strength we can easily understand that during the thickening time test this gel is not observed.
An increase in consistency
Tertiary gel
This gel is related to an increase in cement slurry consistency. In general, it is easily observed from the thickening time curve through an increase of the consistency to values between 20 and 70 Bc. One of its particularities is that the consistency remains abound these values until the thickening time test is completed.
Quaternary gel
The quarterly gel is similar to the previous gel. The main difference is that in the case of quarterly gel the cement slurry consistency, after increasing and reaching the values between 20 and 70 Bc, decreases and these values remain lower until the thickening time test is completed.
Unable to mix or reach the designed density
Cement viscosification can be faced and identified in other ways than the above mentioned. While writing these lines, I remembered a case I faced on the field around 7 years ago. We could not complete a cementing job because we failed to mix on the fly a 2.10 g/cm3 cement slurry. Let's have a quick review of this case.
Background: While drilling a 17 ½'' section with 1.40 g/cm3 OBM, a tool was left in the hole at +/- 1080 m. After various fishing attempts, the client agreed to set a KOP to drill a new hole at 960 m. From well data and conditions, the job was designed to use a 2.10 g/cm3 cement slurry to meet the client's objectives and expectations. For the execution, it was planned to batch mix the spacer and then mix on the fly and pump the cement slurry.
Execution: The spacer was pumped without any issues and the process of mixing and pumping the cement slurry started. The cement slurry density was raised from up to 2.05 g/cc with no issues, but issues started when trying to reach 2.10 g/cc density. Attempts to raise the cement slurry density to 2.10 g/cc were in vain and after around 35 bbl pumped the job was suspended, all the 35 bbl were circulated out.
We tried again, after reviewing all the equipment, hoses, silos, air compressor etc… and changing the cement pumping unit, we could not complete the job. In total, 39 bbl of cement slurry were pumped and later circulated out.
It was obvious to notice that each time we tried to go from 2.05 g/cm3 to 2.10 g/cm3 density, viscosification was observed leading to an un-pumpable fluid. We were able to perform the job after 1.5 days adding two dispersants to the mix water. I will not go through all the investigation's details, this is not the main goal here, instead, I would like to highlight directly what we have learned from.
Nothing related to cement gelation as listed above effect was observed, instead, we learned that: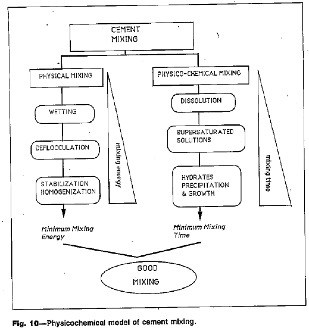 Not enough mixing energy and mixing time: This phenomenon is well explained by Benoit Vidick in his very interesting SPE paper 18895 (Critical Mixing Parameters for Good Control of Cement Slurry Quality). I quote "the critical step is deflocculation. If the slurry is deflocculated, the power will be properly wetted and the energy required for the deflocculation is large enough to ensure the stabilization of the suspension''. This is to say that the cement slurry mixing process is governed by two phenomena: the minimum mixing energy and the minimum time of mixability required. Both are required to mix cement and mix water successfully (figure above).
In the lab, it is important to record and monitor data such as mixing time (min or sec) and enough mixing energy (rpm) and design the execution accordingly. Coming back to my case, what we noticed in the lab was the fact that cement took around 80 sec (> 15 sec or 40 Sec) at 4 000 r/min ± 200 r/min (66,7 r/s ± 3,3 r/s) to be mixed with mix water (from 1 to 4 as presented in the figure below). In order words, mixing on the fly using the cement unit was not the best option in these conditions.

Cement slurry presented high rheology to be mixed on the fly: Depending on best practices and guidelines, it is common to see recommendations like "take precautions when cement slurries rheology presents readings at 300 rpm > 200 because they can present field mixing problems". This is not always true because, I think over the globe, there are many cases where cement slurries with readings > 200 have been and are being mixed on the fly with cement units.
However, in my case, we found out that the slurry we used could not be fly mixed because its readings were > 200. This statement was confirmed over 3 times (on the field) and 2 times performing a kind of "yard test".
These two parameters affected us during the job, the problem was solved, of course, and the job was resumed. What we have learned from this incident was the fact that sometimes we don't pay attention enough to details like the time the cement takes to be mixed with water or rheology readings > 200 at 300 rpm to properly design our job execution. For example, in this case, using a batch mixer was more suitable for the operation than using a cement unit.
Final thoughts:
As per any cementing operation, planning is the key to success. Understanding how to identify cement gelation in all forms in the lab first can help not only to redesign or improve the cement slurry to be pumped but also to choose the appropriate logistic. 
I hope I was not so long and you had fun reading these lines. My first goal was to give some insights (not too deep or heavy) regarding this topic and the second one is now up to you dear readers I need to read your thoughts, I do want to learn from you.
Some references to read
Kieffer, J.; Rae, P. How gelation affects oil well cements OSTI.GOV Journal Article: How gelation affects oil well cements
Benoit Vidick, critical mixing parameters for good control of cement slurry quality, SPE paper 18895
Bikouyi