I recently participated in a discussion about opting for the best alternative between conventional and reverse primary cementing to deal with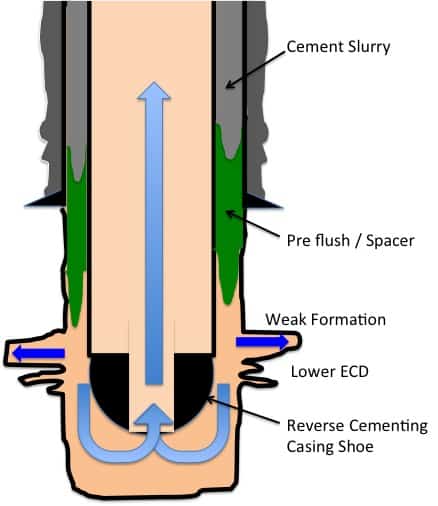 losses and frequent difficulties to reach the required TOC in an intermediate well section. The interesting thing in this discussion was that the majority of the participants had no experience doing reverse cementing. There were many arguments; most of then showing the expected resistance to do a new practice … it was then when I immediately recalled my first time. Yes, my first time with reverse cementing
No need to say that I had no experience with reverse cementing at the time, and I wasn't the only one. Nevertheless, the customer wanted to do it for the first time and wanted me, not so unexpected, to do it successfully!!
The idea was obviously there, but I remember having more questions than answers. Not to mention, I didn't have software capable to simulate reverse cementing or even an actual case history to look at. In essence I was starting from very little background and, as you can imagine, with even less time to put a design together.
In essence, one of the disadvantages of conventional cementing is that as the cement rises in the annulus there is an important increase in hydrostatic and friction pressure. This is not normally a problem, but in a losses situation, like any other, the cement always takes the path of minimum resistance, which is typically the losses zone. Hence, preventing its way up in the annulus. This can be simulated (predicted) by software, and there are several alternatives to "prevent" or "mitigate"the losses, yet not always successful. Another alternative is Reverse Cementing, where the effect of friction pressure and some hydrostatic in your annulus can be removed allowing to fill it with cement from the top.
In conventional cementing, density and rheology need to be higher in displacing fluids to ensure cement coverage (channelling prevention). In reverse cementing, on the other hand, higher density and rheology in displacing fluids would likely have a negative effect.
Keeping pumping pressure in mind and with support from colleagues, I decided to propose the cement slurry only 20% denser than the fluid in the well (previous jobs used conventionally systems 90% denser than the mud – 1.9 sg) and only slightly higher cement slurry rheology than the mud. Without being able to properly simulate the job and with an "hand" estimated effect on ECD, the job was performed operationally as planned.
The outcome, as seen with sonic log, was not perfect but much better in terms of TOC than previous jobs done conventionally, most of them with losses during cementing.
Honestly, despite the results I was not that happy, because the engineering was not that sound to my work standards. Sincerely, I felt a bit in the dark to properly answer questions like: what to do to improve the results next time?
From my previous posts, you know that the thing I enjoy more about simulation is the capacity to truly affect the outcome. However, with no proper reverse cementing computer model, I feared that only educated trial and error, supported by cement log evaluation, was possible.
Next time, with a combination of products and software, we proposed the job conventionally, and to be honest, the first time loses still happened but the TOC was almost reached, nevertheless the "conventional cementing solution" sustained and in later attempts the results improved, leaving the reverse cementing case only as a viable (not the preferred) alternative.
So, What is your experience with reverse cementing? Can you share?
Cheers
L. Diaz